CAPRONI C-22J
1. Introduction
The Caproni C-22J is an Italian twin-engine two-seat jet designed by Carlo Ferrarin in the late seventies. This page will introduce you to the history of this aircraft, its specifications, and several very interesting pictures and drawings.
Many thanks to Carlo Ferrarin for providing me with first hand information.
2. History
The project Caproni C22J began in 1978 as a response to the Low Cost Aircraft draft specifications set by the USAF for jet training at minimal direct operating cost. The C22J was designed in compliance to the aerobatic category of FAR23.
The C22J development was principally based on the experienced gained by Caproni on the A21SJ self-launching glider.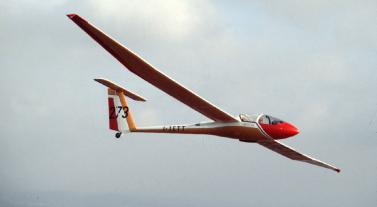 A21 SJ glider
The development, manufacturing and testing phase was accomplished by a team of 14 people led by Carlo Ferrarin. The engineer Marco Morganti and test pilot Paolo Barberis also contributed to the development of the C22J.
The first flight of the prototype (I-CAVJ) took place on July 21, 1980. The prototype was then powered by two TRS 18-046.
The production aircraft had shorter wing spans and tip tanks, and was powered by the more powerful TRS 18-1. The first flight of a pre-production aircraft (I-GIAC) took place on February 17, 1983.
In 1988, FAR23 certification of the C22J was obtained from the RAI (the certification body in Italy).
In 1983, the Caproni family sold the business to Agusta. The C22J program was canceled in 1988 as Agusta considered the (Agusta division's) Siai Marchetti S-211 more suitable for the jet training market. FAA certification under FAR23 category was under way, and there were a few unresolved hurdles such as noise limits. After a long period of inactivity, the two C22J prototypes were indefinitely grounded when Agusta sold the remaining TRS-18 engines in the US.
3. Technical description
The C22J had two turbojet engines installed in the fuselage and fed by a NACA inlet. The fuel was stored in the wings, and in wing tip tanks.