WEEJET
All material on this page gratefully shared from the archives of Johan Visschedijk.
The Weejet is the brainchild of Harold and Eleanor Dale, who both wanted to have the "ideal" aircraft and design it by themselves. Harold was an aircraft designer by profession, he designed the Weejet during the evenings while being project engineer on the North American Aviation F-100. Eleanor, with a college math minor and a good sense of business, was helping out.
Their "ideal" aircraft was one that had good slow flight characteritics, yet could cruise at 350 mph. You also wanted to be seated ahead of the wing, this favored a small jet. The availability of the 880 lbst thrust turbojet Turbomeca Marboré made the concept feasible.
The safest approach to the completion of the design was to submit it to the Civil Aeronautics Administration. Once with the type certificate in hand, they would have a marketable product and investors would be sought.
In February 1952, the application for a type certificate was made, and the name WeeJet 800 officially registered. By then, Dale-Air Engineering was given several smaller research and development jobs, including certified tip tanks for the Navion.
A local aircraft parts manufacturer got interested in the project, and two and a half year later the first prototype was built.
The entire design and certification paperwork was done by Dale and Eleanor on their spare time only, and the prototype was built by 5 men.
On March 30, 1956 the WeeJet made its first flight with Dale at the controls.
After most of the flight testing was completed, the Navy had become interested in the aircraft. A demonstration to P. River (Patuxtent) was scheduled. However, the day before departure for the Navy demonstration, the WeeJet had been conducting spin testings. Until then they were proceeding with success, but the pilot had inadvertently activated the trim tab to the full nose-down position, and in trying to recover, lost control and had to bail out to his safety.
Further WeeJets were expected to be built in 1957, but it didn't happen.
DIMENSIONS
Span
28 ft 0 in
8.53 m
Length
24 ft 6 in
7.47 m
Height
6 ft 8 in
2.03 m
Wing area
150 sqft
13.94 m2
Tail area
45.5 sqft
4.23 m2
WEIGHTS, LOADINGS
Max. take-off weight
4,541 lb
2060 kg
Empty weight
2,481 lb
1125 kg
Fuel capacity
132 US Gal
500 l
Max. wing loading
25.5 lb/sq ft
124.5 kg/m2
POWERPLANT
Powerplant
1 Continental J69-T-9
Take-off thrust
920 lb
417 kg
PERFORMANCE
Maximum level speed
334 mph
537 km/h
283 mph
456 km/h
Cruise altitude
15,000 ft
4570 m
Stall speed at LDG weight
64.5 mph
104 km/hr
Rate of climb
2,200 ft/min
670 m/min
Time to 20,000ft
11.1 min
Service ceiling
35,000 ft
10,670 m
Takeoff to 50 ft
1,800 ft
550 m
Sea level endurance
1.72 hr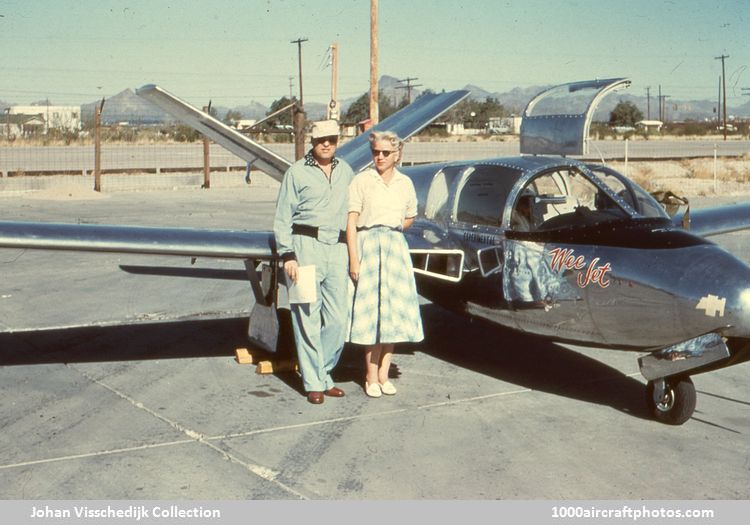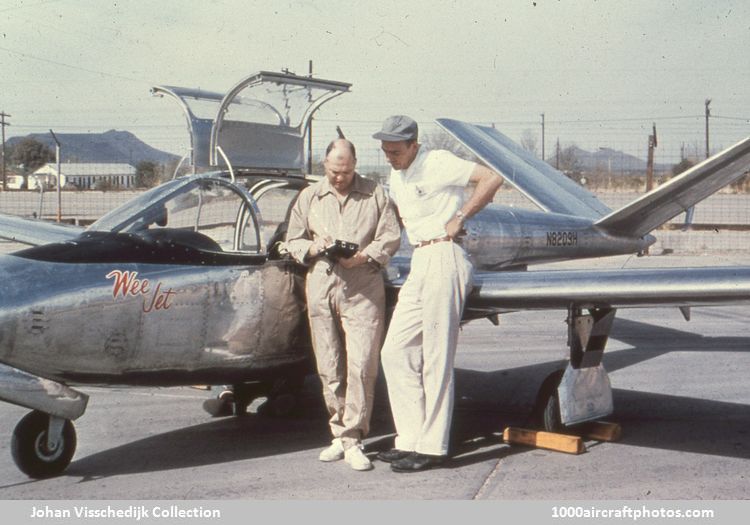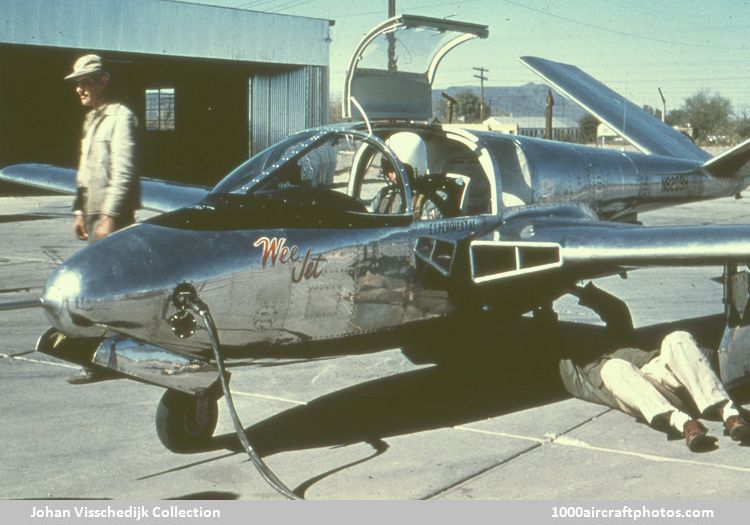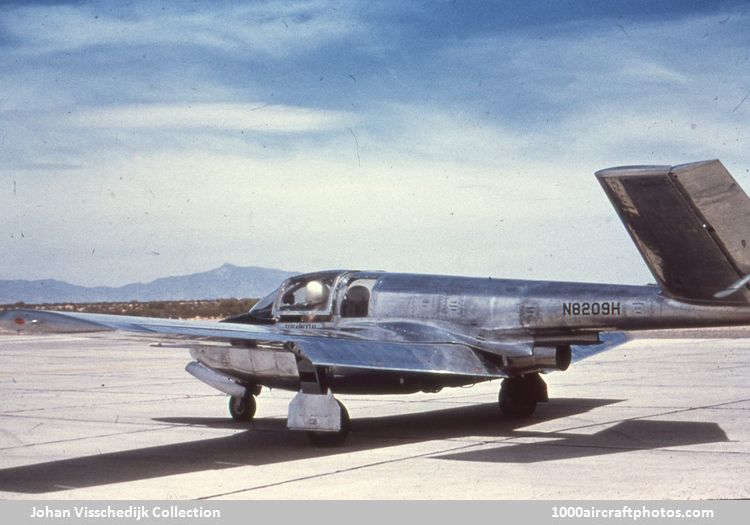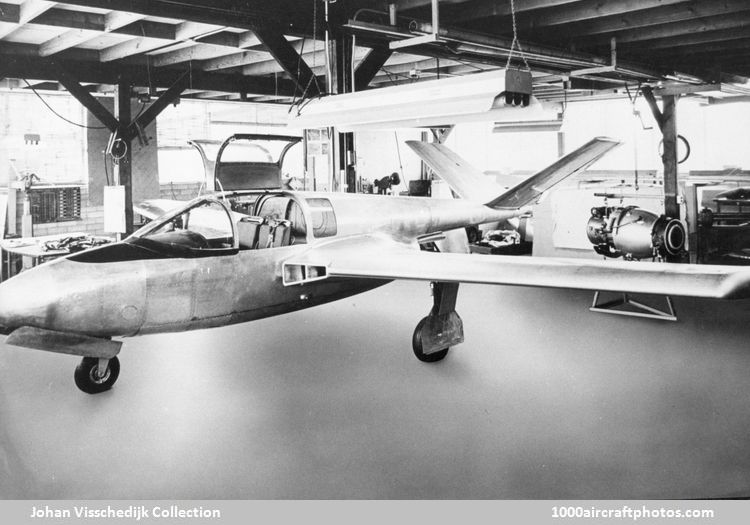 Ultra high resolution available upon request.