FOXJET F600 (From an old copy of Jane's, but edited with more information). The prototype of this lightweight twin-turbofan transport was expected to fly in 1980 but never did. Firm orders for 73 aircraft, backed by deposits, were in hand in mid-1978, and Foxjet International envisaged eventual manufacture of 44 Foxjet F600s per month.
Engine development was then expected to uprate the present turbofan to 5.35 kN (1,200 lb st, with a subsequent refanned version rated at 6.24 kN (1,400 lb st).
NOTE: Thrust mentionned above is total thrust for both engines.
TYPE: Four/six-seat twin-turbofan transport. Wings: Cantilever low-wing monoplane. NACA 65 Series laminar flow section. Moderate leading-edge sweepback; straight trailing edge. All-metal fail-safe structure, primarily of light alloy. Electrically operated modified Fowler type single-slotted light alloy trailing-edge flaps. Manually operated ailerons. Hydraulically operated spoilers, forward of flaps, serve also as airbrakes. Trim tab in port aileron. Electrical anti-icing of each wing leading edge at root, optional pneumatic de-icing boots for remainder of leading edges.
The Foxjet wing had been designed for the Foxjet by Branson Aircraft Corporation.
Known as the Foxjet Super-Flow wing, this could be modified easily to supercritical form when required by future power increase, and was claimed to improve stability and low-speed control. Performance was generally improved by these changes.
Fuselage: Semi-monocoque light alloy fail-safe structure of circular cross-section. Light alloy honeycomb pressure bulkheads and baggage deck.
Tail - Unit: Cantilever multi-spar light alloy structure with swept vertical and horizontal surfaces. Variable-incidence tailplane mounted approximately midway up fin. Manually operated control surfaces, with tab in rudder, Leading edges fitted with de-icing system.
Landing Gear: HydraulicaIly -retractable tricycle type, manufactured by Wiebel Tool Company, with twin wheels on each unit. Main units retract inward, nose unit aft. Manually operated emergency hydraulic system. Oleo-pneumatic shock absorbers. Main wheels have low-pressure tires size 5.00-5. Hydraulically steerable nosewheel unit, with water-chine tire size 11 x 4.00-5. Hydraulic disc brakes on main wheels.
Power Plant: Two 3.78 kN (850 lb st) Williams Research WR44-800 turbofan engines, pod-mounted one each side of rear fuselage. Integral wing fuel tanks, total capacity 825 liters (218 US gallons). Engine inlet anti-icing system.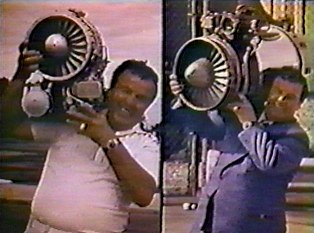 The 570 lbst WR19-3 on the left, the 700 lbst WR19-10 on the right.
Accommodation: Pilot and three to five passengers, in pairs, Dual controls optional. Four standard seats have fore and aft, vertical, and recline adjustment. Seat belts for all seats; pilot's also has shoulder harness. Two-piece door (upward-hinged portion, and downward-hinged portion with integral steps) on portside forward of wing. Emergency exit on starboard side Accommodation air-conditioned and pressurized. Birdproof wind screen with pneumatic system for rain removal, defogging and defrosting. Equipment access door on port side of nose. Baggage hold aft of cabin.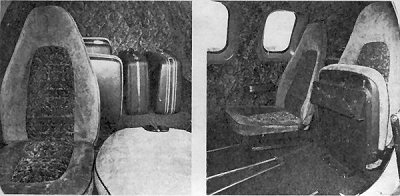 Systems: Pressurization system with max differential of 0.59 bars (8.5 lb/sq in), providing a cabin altitude of 2.440 m (8,000 ft) to 12,500m (41,000 ft). Electrical system. Hydraulic system, with hydraulic backup. Pneumatic system. Oxygen system.
Avionics and Equipment: Standard avionics include dual nav/com, autopilot/flight director, ADF, DME and transponder. Weather radar optional. Standard equipment Includes full blind-flying instrumentation, sun visors, interior lighting, navigation lights, dual landing lights, taxi light, and three strobe lights. Optional equipment includes electrically powered one-man towing system, stowed on board.