SYSTEMS
- Vapour-cycle airconditionning. Pressurisation from engine HP bleed. Cabin max diff. 0.65 bar (9.6 psi).
- Eletrics: 24V for U/C retraction, flaps, trim and canopy operation.
- Avionics: Bendix-King EFIS with conventional standby.
- Anti-icing: AS&T liquid system for wings and taiplanes.
AERODYNAMICS
- Laminar/supercritical wing and empennage design by ARA.
- Pitch and roll control by all-moving low-mounted tailerons.
- Yaw control by all-moving fin.
- Full span 27% chord plain flaps/lift dumpers.
AIRCRAFT PRICE
Maximum selling price for the equipped production aircraft, excluding taxes at September 1998 price levels is $1,350,000.
Here is an image of the first prototype, powered by the Noel Penny engines: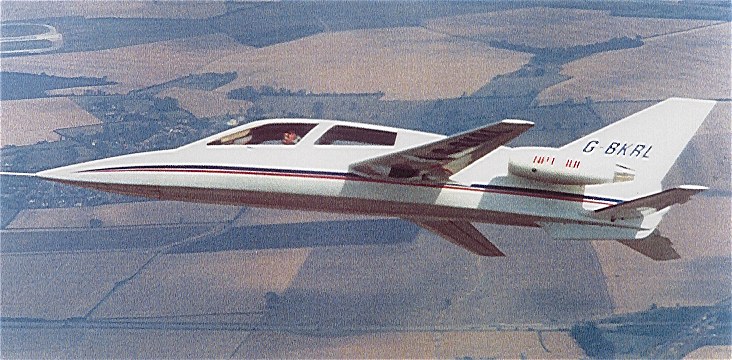 VIDEOS:
Corporate video (thank you for this upload Matt!):

Closing canopy.


Starting up engines (turn up the volume)


Takeoff (cockpit view)


Takeoff (outside view)


Air to air


Air to air and landing (outside view)


Landing (cockpit view)
Last update : 25FEB12